A. Block
Jump to navigation
Jump to search
Summary

| | |
| --- | --- |
| Business | Dried Fruit Packer |
| Main Location | Santa Clara |
| Active | 1896-1930's |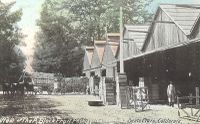 Abram Block was a fresh fruit packer in the Santa Clara Valley. The company was founded by Abram Block, an early California pioneer, and former banker. The company was located on the northwest side of Santa Clara, and shipped 500 to 900 carloads of fruit a year. His plant was billed as the "largest deciduous packing house in the world."[1], and shipped quality fruit to many continents. The company employed 75 people during the summer of 1932[2].
The company was incorporated in 1896. Directors were Abram Block, Wm. F. Pickstone and Max Koher of Santa Clara, and James N. Block and John M. Fagg of San Francisco[3][4].
Block was born in Schwihau, Bohemia (now the Czech Republic). He came to the United States in 1844. Block moved to California in 1852, tried his hand at mining, and fell back to selling miner's supplies in Nevada City. He later moved to San Francisco and had an interest in the Pioneer Woolen Factory[5]. Block moved to California after reversals in mining stocks[6]. in 1878, he bought a farm near Santa Clara formerly owned by Levi Gould, who exported some of the first fruit east in 1869. Block was a member of the California State Board of Horticulture in 1888[7]. He died in 1902[8].
The company had been represented by California Fruit Distributors but no longer appeared on their list of represented companies by 1921.
Alice Iola Hare photographed women packing cherries at the plant during the summer of 1904[9].
Locations
References