California Packing Corporation
Jump to navigation
Jump to search
The California Packing Corporation (also known by its primary brand, Del Monte or by the CalPak nickname) was a major canner and dried fruit processor founded in 1916. The company dominated the industry and California from its inception through the 1980's. The company still exists.
The company was the brainchild of J. K. Armsby, who merged five major canners to create a single large canning conglomerate. The founding companies were Griffin and Skelley, Central California Canneries, J. K. Armsby, California Fruit Canners Association, and the Alaska Packers Association. The company a huge range of products: canned fish from Alaska, pineapple from Hawaii, fruit from California, and vegetables from the midwest. Unlike the California Fruit Canners Association, which created a similarly large merged company in 1899, Del Monte treated the merged organizations as a single company, often canning under the Del Monte name. The Del Monte brand was not used exclusively; there are stories of the San Leandro cannery still canning under the H.G. Prince label in the 1940's[1]. The unification of so many canneries under a single ownership worried the industry at the time[2].
Even after the founding, the company continued to buy other companies and expand its empire. Del Monte bought the Virden Packing cannery in Emeryville in 1927, bought H.G. Prince in Oakland and San Leandro around the same time.
Del Monte was also memorable because of the common building architecture used for many of its plants. Philip Bush designed many of the Del Monte plants with a similar modernist brick style, usually in one or two story arrangements. The warehouses in Alameda on the Oakland Estuary were built in 1925 and show Bush's typical design[3]. Many of the CalPak buildings survive, often repurposed. The Alameda buildings have been reused for industrial space[4], the San Jose dried fruit plant on Bush Street survives as condos, and various plants still can be seen in Oakland and Emeryville.
History comments that earnings in 1930 fell from $6/share to 9c, 1932 were worst losses ever.
San Leandro: See Arcadia book. Martinez and Saunders Street (1921 Western Canner and Packer. The City of San Leandro also did a video describing the cannery.
Sacramento: See article on cannery Stella Adoa Baptista oral history on life in the canneries. Comment on Sunnyvale historical document suggests that some dried fruit receiving houses closed in 1926 as receiving was centralized at Plant 51 in San Jose. In 1920, had 61 plants, 53 in California, 4 in Oregon, 3 in Washington, and 1 in Idaho. Many 1920 references cited in March 1920 Canning Age in mention of customers of Main Belting Company, Philadelphia May 1921 Canning Age magazine summarizes the CalPak annual report. January 1923 Western Canner and Packer notes that pimientos are shipped from San Pedro or Santa Ana.
1963 corporate summary at University of Pennsylvania Dried fruit was 5% of their business in 1963, with three packing plants handling the fruit.

Kahului: Built 1926, sold to Maui Pineapple Company / Alexander and Baldwin in 1934.
Monterey plant was Monterey Fishing and Canning Company, started in 1902 by Harry Malpas and Otsaburo Noda. Became Pacific Fish Co in August 1908.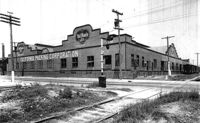 Merced: Largest cannery in the world being built to handle 1924 pack from company's great peach and apricot orchard" "Western Canner and Packer 1922 December 1922 Western Canner and Packer notes Del Monte is starting work on big cannery to handle pack of Planada-Tuttle orchard in 1924 season. Feb 1923 WC&P says it'll be largest cannery in world.
Locations
Location
Plant Number
Years
Address
Details
Alameda
1925, 1941
Buena Vista at Sherman
Former Alaska Packing Corporation salmon cannery. aka Encinal Terminal. Became warehouse for consolidating output from different canneries for eastern shipment by 1968[6] Being repurposed for housing and retail[7]
Atwater
1922-1939
December 1922 Western Canner and Packer notes city helping buy lot along SP tracks for California Packing Corporation to expand the present cannery. "The cannery closed November 27 after packing 160,000 cases of peaches and 7,400 cases of sweet potatoes. Arcadia Publishing's Atwater book says Del Monte left in 1939. The plant had started as the Atwater Cannery, a cooperative, in 1905.
Berkeley
1941
2424 Fourth Street
From Oakland City Directory, 1941. Former Sunlit Fruit Company[8].
Chico
Plant #64
1919
Packing prunes and apricots in 1919.
De Kalb, IL
1970's
Packed peas, lima beans, and corn[9]
Dinuba
155 N. Merced Ave.[10].
Elmhurst
Plant #58[11]
1944
Foot of 85th Street[12].
Emeryville
Plant #35
1926-1989
1200 Park Avenue
Former Western Canning. Now Pixar. Oral history with Stella Adoa Baptista describes working at the plant[13].
Emeryville
Plant #7
1916-1941
40th and Halleck
Packing peaches and pears in 1919. Had nursery school[14].
Franklin, Idaho
Plant #130[15]
1944
Fresno
Plant #15
1916-
Packing peaches in 1919.
Fresno
Plant #25
Cannery
Fresno
Plant #66
1919
Packing apricots and peaches in 1919. (Dried?)
Fresno
Plant #67
1919
Packing apricots and peaches in 1919. (Dried?)
Fresno
Plant #68 / Plant #68A[16]
Tulare St. at G St.
Dried fruit. Former Pacific Coast Seeded Raisin Plant #5 and 6. Becoming site for California HSR station[17] Plant stretched along G Street from Mariposa to Kern St.[18].
Fruitvale
Plant #37
1928-
3000 East 9th Street
Now mall. Former H.G. Prince? Photo pg 394, Southern Pacific Freight Cars: Box Cars.
Gilroy
Plant #55
1939[19]
Dried fruit.
Hanford
Plant #18
1916, 1922
Packing peaches and grapes in 1919. Photo of workers at building in Paulson House, History Park, San Jose.
Healdsburg
Plant #56
1919
Packing prunes and pears in 1919.
Hollister
Plant #88
1939[20]
Dried fruit
Honolulu, Hawaii
Plant #29
1919
Packing pineapple in 1919.
Kahului HI
1926-1934
120 Kane Street
See HAER Survey
Kingsburg
Plant #14 / Plant #25
1922-2012
1101 Marian Avenue
Newspaper articles at time of closure said it had been open for 90 years[21].
Lewiston, Idaho
Plant #28
1919
Packing tomatoes in 1919.
Los Angeles
Plant #19
1916, 1922
900 Macy Ave.
Packing tomatoes, beets, and peaches in 1919. Plant was in operation through at least 1922[22][23]. Plant apparently out of commission by July 1925; a SP industry map of Los Angeles doesn't show a California Packing Corporation plant, but does show some unused tracks on Avila St. between Aliso and Macy[24]. Los Angeles 1906-1950 Sanborn map shows the California Fruit Canners Association plant #22 at the corner of Macy (now Cesar Chavez) and Mission Road, just north of the modern freeway, with the back side of the cannery facing the railroad tracks and L.A. river.

Building still in existence in 1932[25].

Marysville
1921
Milpitas
Plant #21
1920's
Main St. near Alviso Road
Packing peas in 1920's[26]1930 Sanborn map marks as "not in operation June 1930". Also warehouse on east side of tracks.
Modesto
1969 - ~2000
4000 Yosemite Blvd
"Catsup, tomato sauce, tomato juice"
Monterey
1926-1962
Sardine cannery.
Mt. Eden
1931
Mentioned in 1931 Hayward Directory.
Oakland
Plant #6
1921, 1941
First and Myrtle
Still exists. according to signs on photo by James Bunger and 1941 Oakland City Directory. Packing peaches and pears in 1919.
Oakland
First and Myrtle St.
Label printing plant. Building still exists, with "Label Printing Plant" sign cast in building face.
Oakland
1941, 1969[27]
First and Filbert Street
Former Oakland Preserving Company
Oakland
1941
742 Saunders
Oakland
1941
85th Ave
Foot of 85th Ave
Oakland
Plant #35
1969[28] 1250 Park Ave.
Oakland
Plant #237
1969[29]
3100 E. 9th Street
Part of Fruitvale cannery.
Oakland
Plant #34
1924, 1941, 1969[30]
(1941) 1100 29th Ave
Former H. Jones and Company cannery, bought by Del Monte in 1924[31].
Oakland
Plant #24
1916-1954
2744 East 11th Street
Former H.G. Prince cannery[32].
Ogden, Utah
Plant #132[33]
1944
Planada
1922
Highway 120
Mentioned as Merced.
Rio Vista
Plant #22
1921,1922,1953
Former Rio Vista Canning and Packing Company[34].
Rochelle, IL
1970's
Packed peas and corn.
Roseberry
1921
Sacramento
3rd and X Street
Sacramento
19th and R Street
Sacramento
Plant #12
1922, 1938
1600 2nd Street
Front and P Street[35][36].
Sacramento
1925
17th and C Street
Now Blue Diamond.
Sacramento
Plant #11
1916-
"G Street"
Packing peaches and pears in 1919.
Salem
Plant #26
1916-1981[37]
1250 Mill St. SE]
Former Oregon Packing Company, merged into Del Monte in 1916. In SP warehouse until 1935[38] 1922 Western Canner and Packers mentions canned prunes being shipped from this plant. Packing blackberries, string beans, and pears in 1919.
Salem
Plant #126[39]
1944
San Francisco
Plant #1
1907-1930's
North Point Ave.
Now the Cannery. In 1919, was packing pears, port and beans, and tomatoes. Plant either dates to before earthquake[40], built for M. J. Fontana and Company before the earthquake[41], or built on site of Selby smelter in 1907 for California Fruit Canners Association[42]. Closed in 1930's[43], and owned by the Haslett Warehouse Company from 1948[44].
San Francisco
Plant #2
1919
Listed in September 10, 1919 "Lug Box" newsletter as "Specialty", packing preserves, jelly, and catsup.
San Francisco
1920, 1921
101 California Street
Headquarters.
San Francisco
234 Front Street
Food laboratory / Inspection and Service Department[45]. The lab had previously been in the basement of 101 California previously.
San Francisco
1950-1975
215 Fremont St.
Headquarters.
San Jose
Plant #52[46]
1919
Cinnabar Street
Former Armsby plant[47].
San Jose
Plant #3
1919
849 Auzerais St.
Also listed as "West San Carlos Street" and "by the narrow gauge" in 1919[48] Former San Jose Fruit Packing plant.
San Jose
Plant #51
1919[49], 1923, 1936, 1940, 1945, 1949
725 W. San Fernando
Former Griffin and Skelley. Closed 1990, moved to Fresno) Grading and processing on 2nd floors along with bins, warehouse on first. Sulfur rooms in south end of building. (Where was plant #50?) (Also plant #54[50].
San Jose
1930
Montgomery Street at Cinnabar.
Former Richmond Chase plant.
San Jose
1931
Lincoln Ave.
Seen on 1931 siding list.
San Jose
1936, 1940
Auzerais and Meridian Road
(pit cracker)
San Jose
Plant #39
1919, 1936, 1940, 1945, 1972[51]
7th and Jackson
Pickle Factory.
San Jose
Plant #153
1936, 1940, 1945
Sunol and Auzerais St.
By-products.
San Jose
Plant #4 / Plant #34
1901[52]-1964
7th and Jackson
Vinegar works. Location known as "Ruric" station on Southern Pacific

[53].

San Jose
1964
Monterey Road
Seed farm.
San Jose
1964
734 The Alameda
Sales office, fruit and vegetable purchasing office.
San Jose
1964
Hostetter Road
Pit cracking department.
San Jose
Seed Farm #185
before 1977[54]
References exist to seed farm on Furlong Ave. in Gilroy as plant #185 in recent years.
San Leandro
Plant #27
1928
Thornton Avenue
Formerly H.G. Prince according to 1928 Sanborn map, plant #27.
San Leandro
Plant #8
1931
1401 San Leandro Blvd.
West of BART station, vacant as of 2005. 1899-1973. Cannery, dried fruit, agricultural research. Was a packing plant for dried fruit until moved to San Jose in...1960's?[55]. Packing peaches in 1919. Also listed as 752 Saunders (Saunders at Martinez), but the street no longer exists. Originally King-Morse Canning Company.
San Lorenzo
Plant #9
1916-
Hesperian Blvd.
Opposite SP station. December 1922 Western Canner and Packer notes that the cannery will reopen early in 1923 to can spinach from 250 acres. Leonard Perillo superintendent. Packing peaches, pears, tomatoes, and grapes in 1919. Photo in Arcadia's "San Lorenzo" by Doris Marciel.
Sanger
1922
May 22, 1919 San Jose Evening News
Santa Ana
Plant #20
1919, 1921, 1937, 1960's[56]
East First St.
Packing refugee beans and pimentos in 1917[57]Packing chili peppers in 1919. Supposedly former F. P. Cutting Company plant[58], abandoned by 1960's.
Santa Rosa
Plant #5
1921-1932[59]
Between West 3rd and West 6th Street
Cannery built 1894. Former California Fruit Canners Association plant, former Rose City Canning Company? Source for blackberries[60]. Packing peaches, blackberries, and pears in 1919. The 6th Street Playhouse occupies part of the former cannery; the 3ed Street side appears to have been destroyed, with the facade perhaps surviving[61] Superintendent was John Oliva in 1920, and Charles Carniglia after. Plant superintendent's house was on Sixth Street.
Smithfield, Utah
Plant #138[62]
1944
Spanish Fork, Utah
Plant #136[63]
1944
Star Ray, Utah
Plant #34
1919
Packing tomatoes in 1919.
Stockton
Plant #10
1975
2716 East Minor
Filbert Street north of SP's Oakdale branch.[64][65][66].
Suisun City
1919, 1926, -1930s
600 Kellogg St. (from USGS survey landmark[67].)
Dried fruit[68]. Packing pears and apricots in 1919. Water tank at southeast corner of plant, painted dark green with Del Monte logo in red. Described as former J.K. Armsby cannery in at least one document, thought it may have been confused with the dried fruit plant in town. Closed in 1930's[69]
Suisun City (Fairfield)
Plant #60
-1930's
Union Ave. at Broadway St[70][71]
Dried fruit. Former J. K. Armsby plant. Photos exist of plant in 1930's[72].
Sunnyvale
Plant #184
1904-1926, 1930-?
185 Evelyn
photo]
The Dalles, Washington
1921
Toppenish, Washington
Plant #122[73]
1944
Tulare
1922
???
Did not operate in 1922[74].
Vancouver, WA
Plant #27
1919
Packing preserves, pears, prunes, blackberries, and string beans in 1919.
Vancouver, Washington
Plant #127[75]
1944
Visalia
Plant #17
1918, 1922
216 N. Tipton St. at Oak St.[76]
Burned down in 1922. H. G. Hohwiesner was manager in 1918[77]. Photo shows wood-frame structure[78].
Visalia
Plant #16
1918, 1922, 1934
425 N. Johnson Ave.[79](also Johnson Ave. at School Ave[80])
Former California Fruit Canners Association[81]. October 1922 Western Canner and Packer. C. H. Blochburger was manager in 1918. J. W. Dihel was manager in 1934[82].
Visalia
Plant #69
1918
corner of School Ave. and East St.
G. A. Fleming was manager in 1918[83].
Visalia
Plant #70
1918
Johnson cor. North
C. W. Morrill was manager in 1918[84].
Wahiawa, Hawaii
Plant #30
1919
Packing pineapple in 1919. On Oahu.
Wasach, Utah
Plant #32
1919
Packing tomatoes and catsup in 1919.
West Weber, Utah
Plant #35
1919
Packing tomatoes in 1919.
Woodland
-2000
Yakima, Washington
Plant #125[85]
1944
Yuba City
Plant #14
1916-1921, 1930
Packing peaches in 1919. Post card from 1930 shows low-slung buildings next to railroad track. Other photo shows wooden facade[86].
Photos
Del Monte Plant #21, Milpitas John C. Gordon Collection, San Jose State
CalPak (California Packing Corp. aka Del Monte) Plant 51 John C. Gordon Collection / San Jose Library
California Packing Corporation Plant No. 184 Sunnyvale Library
Del Monte Plant #3 Preservation San Jose
Water tower at Del Monte's Santa Rosa cannery. Via Sonoma County library.
Del Monte Warehouse, Alameda. From Flickr photos by MSClife.
Del Monte cannery, Salem Oregon. From Willamette Heritage Center via Statesmanjournal.com.
Plant #14, probably Kingsburg. California State Library, California History Room.
=References