California Prune and Apricot Growers
Jump to navigation
Jump to search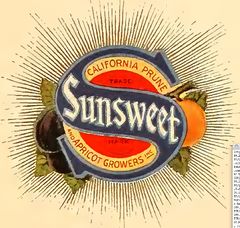 The California Prune and Apricot Growers (commonly known as Sunsweet) is a long-lived co-operative for prune and apricot growers. Founded in San Jose in 1917, the company adapted to changes in marketing and in the locations of the crops. The company has also handled prune and apricot-related products, including canned prunes[1], prune juice, and apricot pit oil[2]. The company is currently based in Yuba City.
The association was started in the spring of 1917. Early management included Frank Coykendall (who sold his Andrews and Coykendall Ham Company to avoid conflicts of interest) and office manager Samuel Squibb[3] (who later worked for the George E. Hyde & Company in Campbell.
The co-operative initially served only for negotiating and marketing, but relied on independent packers to actually handle the crop. For the 1917 season, the association got commitments from farmers producing 75% of that year's crop. Forty-five packers around the state were signed up to actually handle the crop. The San Jose list includes many of the smaller dried fruit packers[4]:
…east side growers

to George Frank Fruit Company on Alum Rock, south of San Jose to O.A. Harlan on South 4th, Campbell to George Hyde & Co, Los Gatos and vicinity to Curtis Fruit, Los Gatos; Saratoga, San Tomas, and growers around Vasona to Gem City Packing, Vasona; Mountain View and growers north of Fremont Avenue including Los Altos and Mountain View to Mountain View Packing Company; Mountain View, growers south of Fremont (Ave) and others go to George Herbert on Lincoln, F.H. Holmes on 18th and Jackson, J.W Chilton on North First, Pacific Fruit Products on San Carlos Street, J.B. Inderrieden, Ryland Street, Warren Dried Fruit, Ryland Street, A & C Ham, Cinnabar Street, San Jose.
Even with their large fraction of the California fruit crop, he association only sold about 47% of the total crop either because of cancelled memberships or growers secretly selling to packers.
The packers working with Sunsweet that year formed their own organization called the Affiliated Packers[5].
Working with the independent packers also turned out to be challenging from a business standpoint. Packing costs varied wildly by packing house. In some cases, packers either delayed paying the association for fruit sold or underestimated the crop owned by the association. In the most obvious case, the George N. Herbert Packing Company supposedly sold a million pounds of the crop without informing the association and held on to the $100,000 in proceeds, leading to a lawsuit, a demand for a $320,000 bond, and a louder demand for the immediate return of 1.9 million pounds of prunes and 178,000 pounds of apricots which belonged to Sunsweet. "...Mr Herbert gave copies of the shipping sheets to the inspectors, so as to permit the fruit to be checked out of the packing plant, but sent only a few selected sheets thereof to the sales department so that the officers of the corporation would be unable to find out that he was liable to the corporation for the purchase of the fruit."[6]. Sunsweet grabbed the twenty-two carloads of packed fruit and 200 tons of prunes the next week[7]. As a result, the association began to make offers to buy dried fruit packing houses so they could control their own crop[8]. The company also planned to manage the selling of apricot pits[9]Sunsweet acquired 16 packing houses before the beginning of the 1918 crop[10], first one bought was the George N. Herbert Packing Company plant.
The association also created their own "field warehouses" to hold onto packed but not-yet-sold fruit. Field warehousing put the product in the hands of a separate company on paper. By having a separate public warehousing company issue warehouse receipts, the association could then borrow money against the stored fruit [11]. Sunsweet's field warehousing subsidiary was the Growers Packing and Warehouse Association.
Relations were mixed with the independent packers and brokers who had previously controlled the crops. At its inception, E. N. Richmond was quoted as saying that the brokers won't try to break the prices of the growers association[12]. In 1928, the association explicitly told packers they wouldn't tolerate encouraging growers to break contracts[13]. The World War also gave cover, because the U.S. department managing food was attempting to control prices by banning fruit buyers from soliciting someone who had already signed a contract[14]. The company was also challenged by lower prices for European fruit. Frank Coykendall summarized the market and Bosnian prunes in the February 1923 Western Canner and Packer
Sunsweet also attempted to control the price by keeping smaller and off-grade fruit off the market. During the 1918 season, they announced that smaller fruit would not be dried, but would be instead turned into "Mar-jam", the company's cross between marmalade and jam. The former O. A. Harlan packing house at 4th and Lewis was used for by-products including jam-making[15].
Sunsweet representatives also covered areas further away from their packing houses. During the 1929 season, the company representatives came to Hayward to encourage growers to hold out for higher prices[16]
Sunsweet may have also had rebellions from within. In 1925, a group of growers in Healdsburg considered forming a separate organization. The growers were angered by Sonoma county prunes being billed as from the "Santa Clara Valley"[17].
In 1939,the corporation sold 95,000 tons of prunes, apricots, peaches, and mixed fruits from Santa Clara and San Benito county packing houses worth $9.5 million[18].
Locations
The following locations were believed to be operated by Sunsweet. Several other plants were leased but never bought, including Plant 22 (George E. Hyde & Company, Campbell), Plant 37 (Warren E. Hyde and S. E. Johnson, Cupertino), and Plant 38 (West Side Fruit Growers Association, Stevens Creek Road, Cupertino).
| Location | Plant Number | Years | Address | Details |
| --- | --- | --- | --- | --- |
| Brooklyn, NY | Plant 43 | 1921-1922 | Bush Terminal Docks[19] | |
| Campbell | Plant 1 | 1917, 1964 | 5 Central Avenue | Former Campbell Farmer's Union Packing Company. |
| Colusa | | 1922 | | Construction started in 1922[20][21]. |
| Cupertino | Plant 38 | | Stevens Creek Road | West Side Fruit Growers Association. Contract packer only? |
| Dinuba | | 1922, 1934 | 265 North N St. (Now N. Urapan Way)[22] | July 1922 Western Canner and Packer. L. C. Wallace was manager in 1934. |
| Geyserville | | 18521 Fredson Road.[23] | | Supposedly receiving station, previously owned by Sherriffs Brothers. Now used by Fredson Winery. |
| Gilroy | Plant 3 | 1917 - | | Former Gilroy Farmer's Union. In operation at least to 1958. Partial photo shows three story wood frame building[24]. |
| Healdsburg | Plant 31[25] | 1922 | "South side of town near railroad tracks"[26] | Former Sherriffs Brothers plant. Bought in 1922[27]. |
| Healdsburg | | - 1970 | 33 Healdsburg Ave | Modern. Included mechanical dryer. Became Fairchild Semiconductor[28] |
| Hemet | Plant 5 | 1917- | East Devonshire Ave. at N. Harvard Street. | Former Hemet Apricot Grower's Association[29]. Still exists. |
| Hollister | Plant 9 | 1917, 1939 | | Former Hollister Packing Company. |
| Los Gatos | Plant 7 | 1917-1928 | Winchester Road | Former Gem City Packing Company. Became Sewall_Brown_and_Company |
| Los Gatos | Plant 13 | 1917 | | ??? |
| Los Gatos | | 1923 | 538 University Ave.[30] | |
| Morgan Hill | Plant 2 | 1917-1964 | 91 East 4th Street | Former Morgan Hill Farmer's Union . Torn down 1964. Dryer in town until 1987[31]. |
| Mountain View | Plant 8 | 1917- 1921 | Oak Street at Villa St. | Former Mountain View Packing Company. |
| Napa | | 1922-? | 849 Jackson St.[32]</ref>[33][34] Exists, damaged in 2014 Napa earthquake. | |
| Red Bluff | | 1922- | | Bought from Sanitary Fruit Company in 1922 according to July 1922 Western Canner and Packer. |
| San Jose | | | 213 W. Santa Clara Street | Public fruit market, |
| San Jose | Plant 4 | 1921, 1926- | 4th and Lewis | Used for the "special carton trade"[35]. |
| San Jose | Plant 6 | 1939 | 595 Lincoln Ave. | Former George N. Herbert Packing Company. Replaced by Contadina warehouse by 1959[36]. |
| San Jose | Plant 10 | 1939, 1964 | 2670 Alum Rock Ave. | Alum Rock at White. Former George Frank and Company plant. San Jose Railroads (trolley) built extension to plant in 1922[37]. |
| San Jose | Plant 10 | | Meridian Road at narrow gauge | Former George Frank and Company. |
| San Jose | Plant 11 | 1921, 1936, ~1960 | 570 Cinnabar | Former Andrews and Coykendall Ham Company. built 1918. Demolished by 1966[38]. |
| San Jose | Plant 12 | 1917 | 8th and Jackson St. | Former F. H. Holmes. Immediately sold to Greco Canning?[39][40] |
| San Jose | Plant 14 | 1922 | 405 North First | Former Chilton plant. Bought in June 1922[41] |
| San Jose | Plant 15 | 1917 | Ryland St. | Former J. B. Inderrieden. |
| San Jose | Plant 16 | 1922 | 740 W. San Carlos Street | Bought in September 1922 from Pacific Fruit Products[42]. |
| San Jose | Plant 17 | 1918, 1939 | Margaret and 4th | Former O. A. Harlan & Company. |
| San Jose | Plant 7 | 1964 | 7th and Alma[43]. | |
| San Jose | | 1964 | Market and San Fernando. | Headquarters. |
| Santa Paula | | 1922 | | Apricot processing plant[44]. |
| Santa Rosa | | 1922- | Wright Ave.[45] | Receiving station, either former former Sherriffs Brothers plant or contract station run by M.L. McDonald. Lasted "a while" after 1920. |
| Sunnyvale | Plant 41 | 1923, 1930 | Evelyn St. at Central Ave.[46][47] | "Dried Fruit Receiving Station". |
| Visalia | | 1934 | 602 S. Bridge St. | Building still exists. Manager in 1934 was R. J. Scheline[48]. |
| Yuba City | | 1964 | | Enlarged 1964. |
Photos
Sunsweet Campbell Co-operative Dryer, 1960's. At San Jose State.
Hemet: Photo at [3]. Plant is listed there as Growers Packing and Warehousing #5.
Additional photos of Sunsweet Plants appear in advertisement October 30, 1920.
Photo of man shoveling prunes in Sherriffs Brothers packing house, Healdsburg.[49]
Geyserville Exterior View of the Sunsweet Prune Packing Plant. From Sonoma County Library.
Sunsweet Plant #10, San Jose (former George Frank and Company plant): History San Jose.
Sunsweet in Mountain View
1921 Sanborn map shows main building has storage on first and second floors, grading on third, and a "process room" (sulfuring?) on second floor. Separate warehouse. Separate boiler house, with oil tanks at ground level. (Not on rolls by 1921)
Sunsweet in San Jose
Sunsweet had several plants in San Jose, ranging from primitive and small to modern and large.
Bob Morris photos from early 1960's show the Mission-style tower and shed roof of the former Andrews and Coykendall Ham Company. The plant was built in 1917 as three-story, concrete. 1950 Sanborn map shows used for grading and packing.
Two story concrete building with grader on 2nd floor and warehouse on first. Built for O.C. Harlan in 1918. Separate sulfur house.
Plant 14, the former J. W. Chilton Fruit Packing Plant, was bought by the association in 1922 and used for their "special carton trade"[50]. The engineer at the plant for some years was Frank Frymire, who had previously worked for O. A. Harlan[51].
Sunsweet in Sunnyvale
References