Hamlin Fruit
Jump to navigation
Jump to search
Summary

| | |
| --- | --- |
| Business | Dried Fruit Packer |
| Main Location | San Jose |
| Aliases | Hamlin Packing |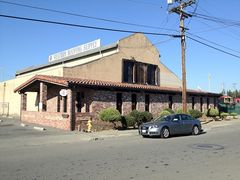 Hamlin Fruit was a 1920's and 1930's era dried fruit packer, run by Homer Hamlin. The corporation had two dried fruit plants in San Jose. In 1939, the company sold 2500 tons of prunes, apricots, and pears worth $150,000[1].
The building still exists on Sunol St. in San Jose.
Locations
| Location | Years | Address | Details |
| --- | --- | --- | --- |
| San Jose | 1928 | 631 Sunol Street | 631 Sunol Street |
| San Jose | 1940's | | Used drying yard associated with 631 Sunol, owned by Mayfair. |
Details
Founder: Edwin Hamlin. Edwin had moved to San Jose from Minnesota after the turn of the century; he'd been a "hardware merchant" back in Lake Crystal, Minnesota. He owned a bunch of farming land in the area and made his home right next to Palm Haven on what is today 779 Bird. The old house is still there. Hamlin had been the manager for a pottery company according to the 1920 census; his son, Homer, who helped with Hamlin Fruit, had listed his occupation on a World War I draft card as working on the kilns. Edwin supposedly built 631 Sunol Street for Hamlin Packing. By 1930, Edwin is listing his occupation as "real estate salesman".
Cited in obituary for Homer Clair Hamlin (1922 - 2007) said that his father ran Hamlin fruit.

Building and Engineering News in 1928 noted a request for bids to "ADD to packing plant, $2000, near Lincoln Street, San Jose; owner Hamlin Packing Company, 631 Sunol Street, San Jose"
Hamlin sold prunes to Sun-Maid Raisin Growers in September 1926.
Photos of boxes in John C. Gordon collection at San Jose State.