Hunt Brothers Packing Company
Jump to navigation
Jump to search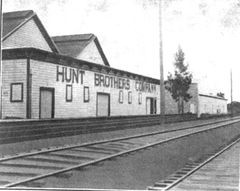 Hunt Brothers Fruit Packing Company was an early California canner. The company, started in Santa Rosa by W.C. Hunt and Joseph Hunt,, quickly outgrew its home town and relocated to Hayward, California in the 1890's. The company expanded and was sold several times, but continues to exist as a modern-day brand.
Hunt Brothers was started by W. C. Hunt and Joseph H. Hunt[1]. Joseph Hunt started canning in Sebastopol, California in 1888, packing 1,500 cases of fruit in the first season. His brother joined him soon after, and they moved the cannery to Santa Rosa and organized the Hunt Brothers Fruit Packing Company to both can and dry fruit. In 1896, the brothers sold the Santa Rosa business, and incorporated a new Hunt Brothers Company with a new cannery in Hayward, California. After the death of W. C., Joseph Hunt continued the business. By 1902, the company was producing 240,000 cases of canned goods a year. The company also had connections with the Hawaiian Pineapple Company, and had a cannery under construction in 1903[2]
The company chose to stay out of the larger conglomerates,neither joining the California Fruit Canners Association or the later California Packing Corporation. "California's Finest", the history of the Del Monte Corporation, claims that Hunt Brothers merged into the California Fruit Canners Association in 1899, but in reality Hunt Brothers appears to have been fighting against the huge association and its ally, the American Can Company. Because American Can would not sell cans at competitive prices, Hunt started their own can plant, and in 1901 built a plant double the size at the foot of Oak Street in Oakland, and began selling cans to the other non-association members. American Can relented, and offered to buy the Hunts can plant and guarantee buying cans at a reduced price for five years as long as Hunts stayed out of the can business for ten years[3]. There is some mention of Hunt Brothers owning Portland's Rose City Packing Company, which was part of the CFCA[4].
(Read more about opposition to the California Fruit Canners' Association.)
In March 1918, Joseph H. Hunt sold his interest in the company to Julius Landsberger[5][6][7]. Directors for the new venture were W.C. Cox, G. M. Murphy, A. St. Johnson, M.C. Liston, T. E. Folck, Alan Van Fleet, T. M. McNell, D. J. Walsh, and Blah Schuman[8]. Landesberger declared that the incorporation was "for the purpose of settling and cleaning up old affairs of the corporation"[9]. At the time of the sale, Western Canner and Packer declared it was the third-largest fruit-packing business on the west coast, with plants in San Jose, Los Gatos, Exeter, Salem, and Hayward. Landsberger had already been active in the canning business, and owned patents for canning jars. Emil H. Nielsen was listed as a first vice-president in 1920; he had also been president of the Golden State Asparagus Company, and manager of Oakland Preserving Company in 1895[10].
Hunts also merged with San Jose's venerable Golden Gate Packing Company in April 1918. California Fruit News highlights Elmer Chase's addition to the staff, and speaks much more glowingly about Chase's reputation in the canning industry than of any of the other principals. The article also declares that Chase would become a director of Hunt Brothers, and that Hunt Brothers would be directing the actions of Golden Gate. (Chase left soon after to form Richmond-Chase.) The article also mentions that both companies had the merger would lead to "the closest of future relations between the packers and buying trade", suggesting both companies had unusually strong relations with the wholesalers[11].
The Hunts cannery in Exeter, California closed during 1921[12].
Frank A. Dixon was general superintendent of Hunt Brothers from in 1921, and had been with the company since 1906. Dixon had gotten his start with the San Jose Fruit Packing Company[13].
In March, 1922, Landsberger sold his controlling share to the other directors including Gustav H. Bradt. Bradt had been the sales manager of Hunt Brothers until 1916, then general manager for the business. He formed his own brokerage after the takeover, but returned in 1922 potentially bankrolled by a Chicago grocery wholesaler[14]. Bradt declared that the company intended to focus less on Hunts' own product and do more private label supplies for other retailers[15].
Hunts was bought by Norton Simon in the early 1940's and became part of his Val Vita Foods conglamerate in the 1940's, which soon changed its name to Hunt Foods. Simon also acquired Wesson in the early 1950's, and renamed the company Hunt-Wesson. The conglomerate was bought by Beatrice, then a private investment group, and finally by ConAgra in the 1980's. Hunts still exists as a modern-day brand.
By the 1970's, Hunt Foods had canneries in Hayward (A Street and B Street), Davis, Oakdale, and Fullerton. Non-California canneries included Rossford Ohio and Tilbury, Ontario. Distribution centers were in Dallas, Houston, New Orleans, Kansas City, Chicago, Toledo, Jersey City, and western Pennsylvania[16]
Hunts in Hayward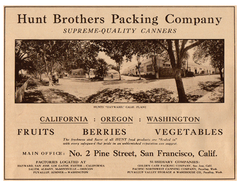 Hayward packed cherries, peaches, apricots, eventually tomatoes. The cannery was huge, with its own glass manufacturing plant and can making plant. The February 1923 Western Canner and Packer said that 600,000 cases expected to be packed in 1923, and that the plant should be in operation from March to November[17]
In the 1970's, Hunt's had two canneries in Hayward: the A Street plant and B Street plant. "B Street did tomato products almost exclusively. If memory serves they also did something called "Manwich". A Street did tomato products also plus Hunt's Snack Pack pudding cups."[18].
Hunts in Los Gatos
Hunt Brothers Packing Company bought the Los Gatos Fruit Packing Company from George Hooke in 1906, and used the plant for canning fruit, both produced locally and elsewhere. The original cannery on Santa Cruz Ave. near downtown was abandoned in 1907 for a new, larger plant at Santa Cruz Ave. and Saratoga Ave[19]. The building for the new cannery had previously been a winery built by Amedee Delpach[20]. A new floor was added to raise the warehouse up three feet. Boilers were installed at the north end of the building; the receiving room was in the southwest, and a new warehouse 80 feet wide and 225 feet long was being built. Hunt Brothers also asked to relocate a cemetery just north of their warehouse[21] The new plant was christened with a celebratory dance on May 1, 1907[22] The next year, Hunt enlarged the railroad spur[23].

In the 1927 season, Manager W. F. Gasman started canning apricots in early July. The cannery required 350 workers, filling the cannery's 55 cottages and 15 tent houses[24].
In the 1928 season, Hunts produced 582,000 pounds of apricots, 12,000 pounds of plums, 1.3 million pounds of pears, and 6 million pounds of peaches[25]. In the 1930 season, the manager E. K. Sullivan oversaw apricots and peaches, with four railroad cars of tuscan peaches arriving in mid-July for canning.[26].
All the fruit and sugar tempted the local bees into the cannery in the 1922 season[27].
Hunts closed the Los Gatos cannery in the late 1920's and early 1930's, and apparently only used the building as a warehouse. Hunts sold the cannery in September 1942 to W. J. Gould of Los Angeles[28]. The cannery was then sold to Seagrams distilling interests on May 11, 1943 after their purchase of the Paul Masson properties[29]. The cannery had not been in operation at that point for ten years. 13,000 sq ft of 70Ksq ft were already leased by Louis Devich in 1943 in hopes of canning.
Some of the Los Gatos cannery fire prevention equipment went to Sunsweet in 1944[30].
The Hunts Cannery building disappeared some time between 1953 and 1956; the empty lot where the cannery formerly sat was used by travelling circuses[31] until a new strip mall was built in the 1960's.
Hunts In San Jose
Hunt Brothers' San Jose plant had formerly been the Golden Gate Packing Company, an early San Jose canner. Golden Gate's plant was at 361 North Fourth Street, just east of the old Market Street Depot, and in the fork between the railroad tracks to Oakland and Los Angeles. The buildings used by Hunt Brothers had been used for canning since the 1880's. Hunt Brothers purchased Golden Gate in April 1919, just after the sale of the company to Landsberger[32]. Elmer Chase, a former manager, left to join Richmond-Chase soon after. Within two years, the company planned for expansion by purchasing the Salinas Valley Grain and Produce plant adjacent[33].
E. L. Snell was the superintendent of the "Golden Gate branch of the Hunt Brothers Packing Company" from 1919 to 1929; he resigned in 1929, and the job was picked up by W. H. Hudson who had been running the Suisun plant[34].
Locations
Location
Years
Address
Details
Campbell
1946-
Harrison Ave.
Former Drew Cannery.
Davis
1963-1999
Newest Hunts plant[35].
Exeter
1912-1921[36].
1912 cannery west of Pine St. along railroad tracks[37]
"Near Kirk Hotel"[38]. The company expanded the plant in 1914[39] and supposedly was idled in 1921[40] and never reopened. (Strangely, Hunt Brothers claimed they were going to be doubling the size of the cannery in 1922[41]. Became C. B. Williams Co. and Pacific Fruit Exchange[42].
Fullerton
1943-1990's[43]
Commonwealth Ave. near Brookhurst St.[44]
Tomato processing.
Gridley
1903-
Locust Street, east of railroad tracks
First cannery
Gridley
1903-1920[45][46][47]
100 block of Kentucky Street (south of Locust, west of railroad tracks)
Sold to Libby, McNeil, and Libby by 1920.
Hayward
1891-1981
A, B, C street at railroad tracks
Los Gatos
1907-1930
Santa Cruz Avenue at Highway 9
Former Hooke / Los Gatos Canneries, purchased 1906. Torn down by 1956.
Oakdale
1970's
By the 1970's, Oakdale was the only plant canning fruit[48].
Oakland
1902
Foot of Oak Street
Can plant[49].
Rossford, Ohio
1970's
Near Toledo. Toledo also had a distribution center.
Salem
1914-1956
Front Street[50]
Construction described in 1921 Canning Age[51].
San Francisco
1918
112 Market Street
From Julius Landsberger's draft card.
San Jose
1918, 1922, 1936, 1940
361 North Fourth Street
Former Golden Gate Packing Co, purchased 1918.
Santa Rosa
1895-
11-19 West Third Street[52]
Sold by 1896?
Suisun
1920s-
Illinois St. near Union St.[53]
Originally Winters Canning Company[54] Canned peaches and asparagus[55].
Photos
Hunt Brothers Cannery, Los Gatos Museums of Los Gatos
Hunts Cannery, Los Gatos, 1930
Hunts Cannery, Los Gatos, 1930
Hunt Cannery - unloading fresh fruit. 1920s. History Los Gatos.
Photo of Hunt Brothers packing house. Sonoma County Library / Sonoma Heritage Collections.
Salem. From Salemhistory.net.
References