Difference between revisions of "J. K. Armsby"
Jump to navigation
Jump to search
Line 6:
Line 6:
 

}}

 

}}

 
 
 
+
 

[[File:armsby.jpg|240px|thumb|right|J.K. Armsby, San Jose.  From "The Sunsweet Story".]]

 

[[File:armsby.jpg|240px|thumb|right|J.K. Armsby, San Jose.  From "The Sunsweet Story".]]

 
 
---
Revision as of 07:22, 16 November 2013
Summary

| | |
| --- | --- |
| Business | Wholesale Commision Merchant |
| Main Location | Chicago, IL |
| Active | 1865 - 1916 |
| Brands | Porter's Best (dried), Tropic Bird, Orange Blossom (dried), Blue Ribbon (dried), Red Bluff, Bordeaux[1], Today's canned fruit[2]. |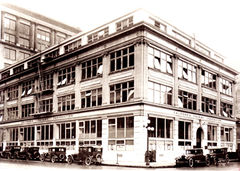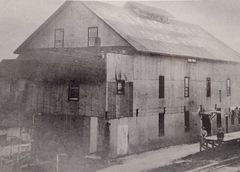 J. K. Armsby was a wholesale grocer formed in Chicago in 1865 that eventually expanded to a dried fruit packer, canner, and major wholesale grocer on the west coast, and was one of the initial companies that formed the California Packing Corporation. As a wholesaler, Armsby both was a broker for producers (representing the California Fruit Canners Association) and a producer of dried and canned fruit for sale. The company grew the Central California Canneries, and ran their own dried fruit packing houses. The company apparently may have moved headquarters to San Francisco at some point.
The company slogan was Armsby's From the Land of Sunshine Fruits", and they produced a wide range of products. A 1910 ad[3] lists some of their stock as dried fruits, canned goods, salmon, nuts, beans, and Hawaiian pineapple. They list plants in Fresno, San Jose, Armona, Visalia, Sanger, Suisun, Marysville, Los Angeles, Gilroy, Yuba City, Stockton, Ventura, and Vancouver WA. The same locations were shown in a 1913 ad.
Armsby was the exclusive agent for the California Fruit Canners Association and Alaska Packers Association for sales for several years. When the CFCA broke off relations, they attempted a buyout of Central California Canneries which failed, but they managed to keep a good business relationship to continue acting as agent for the company. The general manager of the company in San Fracisco was Allen Freeman, who owned Allenoak Manor on Ridge Road in Berkeley; a March 21, 2008 Berkeley Daily Planet article on Allenoke Manor gives additional history.
The company founders were J.K. "Jake" Armsby and George N. Armsby[4], with Jake the salesman and George the financier. J.K. Armsby was one of the vice presidents of the National Canned Foods and Dried Fruit Brokers Assocation at one point.
Armsby was one of the companies that merged into the California Packing Corporation 1916. Their headquarters building at 101 California Street in San Francisco became the new company's headquarters.
Armsby's San Jose presence was first next to the train station on Ryland Street, but moved in 1900 to a location on Montgomery Street. The 1915 Sanborn map shows it at end of Montgomery next to Lenzen engine facility. The building is labelled as used for dried fruit packing, with fruit bins and boxes, and long siding. Castle Brothers is next door. A contemporary photo[5] shows a three story packing house in corrugated iron. The August 23, 1902 San Francisco Call noted an addition to the warehouse.
Locations
| Location | Years | Address | Details |
| --- | --- | --- | --- |
| Armona | 1910, 1913 | | |
| Fresno | 1910, 1913 | | |
| Gilroy | 1910, 1913 | | |
| Los Angeles | 1910, 1913 | | |
| Marysville | 1910, 1913 | | |
| San Jose | 1896, 1898 | Ryland at San Pedro | From 1898 city directory |
| San Jose | 1900, 1904, 1906, 1907 | Montgomery at Cinnabar | |
| San Jose | 1910, 1918 | 419 North Montgomery Street | Listed as Little Montgomery Street in directory. |
| Sanger | 1910, 1913 | | |
| Suisun | 1910, 1913 | | |
| Vancouver, WA | 1910, 1913 | | |
| Ventura | 1910, 1913 | | |
| Visalia | 1910, 1913 | | |
| Yuba City | 1910, 1913 | | |
References