Start and Morrison
Jump to navigation
Jump to search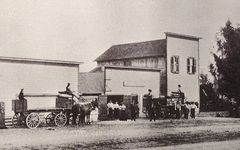 Start and Morrison was a fruit dryer on the east side of San Jose near Alum Rock Ave. and Capitol Ave[1] run by George H. Start and W. Morrison. The company also dried for E. E. Thomas, leading to a lawsuit over the quality of the fruit in 1895[2]
The company was taken over by the Knowles Brothers in 1897[3].
Locations
References
↑

Sunshine, Fruit and Flowers

↑ Appeals Decided. May 1, 1895 San Francisco Call. California Supreme Court ruled "In the case of the E. E. Thomas Fruit Company against George H. Start and W. S. Morrison. the Supreme Court has affirmed the judgment of the Superior Court in the favor of defendant holding that where the plaintiffs agreed to dry and cure prunes in a first-class manner, and owing to negligence on plaintiffs' part said prunes were injured, the contention of plaintiff that the fruit was of inferior quality was not ground for a reversal, the preponderance of evidence being in favor of the decision of the lower court."
↑ Agricultural Review. Pacific Rural Press, Aug 21 1897. "The Knowles Bros, now own the drier formerly the property of Start & Morrison on Alum Rock avenue. They began drying apricots July 6th and will not close until late in December, as they do their own packing. In all, 500 tons of apricots were taken In, and a large amount of prunes and peaches are yet to be con traded for. There are 160 cutters at work and 50 men, mak ing a pay-roll of #400 per week.—San Jose Mercury."