Pratt-Low Preserving Company
Jump to navigation
Jump to search
Summary

| | |
| --- | --- |
| Business | Cannery |
| Main Location | Santa Clara, CA |
| Active | 1905 -1960 |
| Brands | Polka Dot, Pratt-Low, Rag Doll, Chimes, Roman Gold, Santa Clara, Sutter Pak[1]. |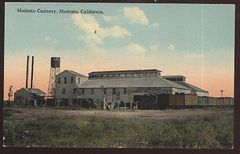 Pratt-Low Preserving Company was a long-lived canner that was founded in Santa Clara, California in 1905[2][3]. Their flagship cannery, located on 22 acres at Bellomy and the Alameda in Santa Clara, had formerly been the Pacific Manufacturing Company. Pratt-Low was founded by George Pratt, D. Low, and Frank Wilder; Pratt had been a fruit buyer[4]. Wilder previously worked for the California Fruit Canners Association. Wilder continued to be a force for the food industry in California; he also was a founder of the Security Warehouse and Cold Storage Company in San Jose[5].
Ad in February, 1923 Western Canner and Packer mentions "four model canneries" including the Santa Clara site, a Modesto plant that planned to can 250,000 cases of apricots and peaches during the 1922 season[6], and a Redwood City cannery along the Dumbarton cutoff[7]. Edith Daley reported on her visit to the Santa Clara cannery in the July 23, 1919 San Jose Evening News.
Pratt-Low was taken over by Harry A. Irving of the Carmel Canning Company in 1945[8]; the company merged with Southern California-based Fitzsimmons stores in 1956 (listed as Thriftimart, Inc. in a 1957 SEC filing[9]), and was sold to the Duffy-Mott Company in 1960. Pratt-Low cut back to canning only prune and tomato juice in 1971, and shut down for good in April 1978.
Migrant worker housing from Pratt-Low was bought by orchardist Eiichi Sakauye in 1952; those buildings were later moved to San Jose's History Park[10].
Locations
| Location | Years | Address | Details |
| --- | --- | --- | --- |
| Grand Island | 1920[11], 1927 | | Along Sacramento River between Isleton and Ryde. Started in early 1900's, torn down in the 1980's. Now Cannery Landing RV Campground[12]. |
| Modesto | 1922 | 9th and C Streets | Founded in 1908 as Modesto Canning Company[13]. Became Pacific Grape Products in 1941, Flotill in 1942, and Tillie Lewis in the 1960's[14] |
| Pescadero | 1918[15] | | Canning artichokes. |
| Redwood City | 1918, 1921[16] | | |
| Santa Clara | 1906-1978[17] | The Alameda and Bellomy Avenue | Listed as Bellomy at corner of Campbell Ave. [18]. |
Photos
Pratt-Low Preserving Company, Santa Clara Sourisseau Academy for State and Local History
References