Saint Claire Brewing Company
Jump to navigation
Jump to search
Summary

| | |
| --- | --- |
| Business | Brewery |
| Main Location | San Jose |
| Active | 1933-1944 |
| Brands | "Black and White", "St. Claire Ale", "Steinbrau" |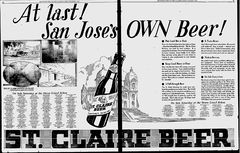 The Saint Claire Brewing Company was a San Jose brewery, opened just after the repeal of prohibition in 1933. The company began selling beer on Saturday, December 9, 1933[1].
The plant opened in the former Virden Packing plant on Lincoln Ave. in San Jose in 1933, claiming a potential capacity of 150,000 barrels. Richard Simon was the owner of the company[2]
The company may have disappeared as early as 1936 when it was sued by a supplier of some of its equipment[3].
Locations
San Jose: 1090 West San Salvador Street. 1936
References
↑ St. Claire Beer: December 8, 1933 San Jose Evening News. Advertised stores selling beer and had photos of the mission-style front.
↑ San Jose Beer To Again Be Put On The Market: November 14, 1933 Santa Cruz Sentinel
↑ San Jose Brewers Sued For Equipment: June 20, 1936 Santa Cruz Sentinel. "San Francisco: The George J. Meyer Manufacturing company of Cudahy, Wis, brought suit in federal court here today to seek to recover $19,000 worth of equipment from the St. Claire Brewing Company of San Jose. The manufacturing company sold the equipment to the brewery under a conditional sales contract, David Livingston, attorney, declared. He said the brewery had defaulted."