San Jose Fruit Packing
Jump to navigation
Jump to search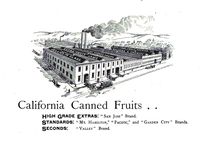 The San Jose Fruit Packing Company was the first canner in San Jose, started in the mid-1870's, and the ancestor of Del Monte. The company was started by Dr. James M. Dawson who did early canning in San Jose. He first started canning in . an orchard near 21st and Julian, and later built the company's first official cannery at 5th and Julian in San Jose in 1874. The company canned 4,000 cases annually in 1874, and 25,000 in 1876. J.M Dawson left the company in the mid-1870's, but the company continued with his son, J.B. leading. J.M. Dawson later started another cannery under his own name.

The company constructed a new state-of-the-art cannery on 11 acres along the South Pacific Coast railroad tracks in 1893, soon after running into problems getting a railroad spur to the previous site at Fifth and Julian[1][2][3]. Construction was still proceeding in 1893, when Joseph Pinard complained about the company refusing to buy his property and erecting a fence on his side of the property line[4].
The manager in 1890 was W.H. Wright, who also licensed a sealed jar for canning in glass[5]. Contemporary photos show wooden buildings surrounded by muddy ground, with a house-like structure visible[6]. A San Francisco Call article from 1900 describes a fatal injury in the elevator of the Auzerais Street cannery[7].
U.S. Financial problems in 1894 caused the company to pack only 10% of their crop in 1892. The company blamed unemployment in the east keeping workers from being able to afford their products[8] The company also could not borrow money that year. The company noted that they employed from 200 to 900 people, and that 20% of their labor at the time was skilled. Skilled labor paid $15 a week, ordinary labor, $5 to $12 for a 60 hour work week. 16% of their canned goods were exported. In 1893, the company also had to issue scrip to its employees because of difficulties getting cash advances from banks[9].
The company was a drop-off location for the California Cured Fruit Association in 1900[10]. In 1899, the San Jose Fruit Packing company merged into the new California Fruit Canners Association.
History San Jose also summarized the history of the San Jose Fruit Packing company[11].
Locations
Photos
San Jose Fruit Packing Company (precursor of Del Monte) Hstory San Jose
References