Campbell Farmer's Union Packing Company
Jump to navigation
Jump to search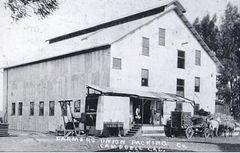 The Campbell Farmer's Union Packing Company was a dried fruit packing co-operative located in Campbell. The company was organized in 1909[1]. The officers at incorporation were F. M. Righters and Percy Baldwin Payne, Sr. (president and manager), with other organizers including H.E. Craig, A.N. Lantz, I.V. Vollmer, Arthur Ernst (all of Campbell), F.W. Watson and W.O. Post of Los Gatos, T.P. Jones of Sunnyvale, F.M. Coleman of Cupertino, F.R. Shaffer of San Jose. The sales agent was Walter M. Field in San Francisco, operating as the "California Farmer's Union Inc"[2].
The company built their original plant along Central Ave. in 1912[3]. The new packing house, opened on October 1, 1912[4] was three stories high and measured 54 by 75 feet[5]. The company tried to do raisin packing, but gave up in 1913[6].
In 1917, the board of directors were D. M Utter (Valley View), W. O. Post (Los Gatos), F. J. Currier (Cupertino), J. E. Wiesendanger (Cupertino), Fred Millard (Los Gatos), P.D. Gardner (Wrights), C. F. Johnson (Santa Clara), H. W. Ogan (Edenvale), H. B. Bates (Santa Clara), and F. A. Shaver (Campbell.) Utter was president, Wiesendanger, Vice President, and George S. Robson, secretary and manager[7]. The Farmer's Union is best known because it was one of the founding members of the California Prune and Apricot Growers association, also known as Sunsweet. When the organization was formed in 1917, the Farmer's Union packing house became plant #1 and packed for them under contract. After encountering problems dealing with independent packers during their first year, the association bought the packing house in 1918. At the time of the sale, the Farmer's Union also had packing houses in Morgan Hill and Gilroy[8]
The company was also known as one of the more successful packing co-ops[9].
Locations
| Location | Years | Address | Details |
| --- | --- | --- | --- |
| Campbell | 1911 | Central Avenue | Became Sunsweet. |
Photos
References