Guggenhime and Company
From Packing Houses of Santa Clara County
Guggenhime and Company was a large independent dried fruit packer in California, founded in 1897 by David J. Guggenhime[1]. Guggenhime had packing houses in the Santa Clara Valley, San Joaquin Valley, Sacramento Valley, and Southern California. Guggenhime packed "dried fruit, raisins, nuts, [and] honey"[2], packing under flower brand names: Pansy, Rosedale, Daphne, Carnation Pink, and Heliotrope[3]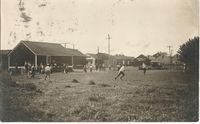 David's brother, Berthold Guggenhime was vice president before 1918, but after David's death in 1921 ran the company. Berthold Guggenhime was the company president in 1921, with Bert Katz, vice-president, Lester Lacher, second vice-president, Silas Harris, secretary, and Martin Lemeke, treasurer[5]. Supposedly, the company became the largest independent dried fruit packer as Rosenberg Brothers declined[6].
Guggenhime planned a merger with several other dried fruit processors in Castle Brothers, Rosenberg Brothers, and Phoenix Packing in 1905, but the deal collapsed under accusations that Rosenberg Brothers used the merger as a ruse to gather competitive information[7]. Guggenhime was also a founding member of the Dried Fruit Association of California in 1907, with D. J. Guggenhime representing the company.
Phoenix Packing was merged into Guggenhime and Company by 1920[8]. Both brands were advertised together in the California Fruit News, March 18, 1922.
Guggenhime was bought by Hunt Brands in April 1946[9] for a sale price of $1,500,000[10]. Hunts left the dried fruit business in September 1949. Guggenhime's last president was John Vellis, who had started at the company in 1904 and worked his way up from office boy. At the time of the merger, Guggenhime had plants in San Jose, Modesto, and Fresno, with offices in San Francisco, and was the second largest dried fruit operation in California. "He remembered that during the deadly experience of influenza in 1917, practically all the workers in the San Francisco plant were laid low, and he put on a mask and worked in the plant supervising the packing."[11] Vellis also claimed that 40 to 50 percent of all dried fruit was exported before World War II.
Guggenhime also owned the Fontana dried pasta brand, and brought that brand to Hunts during the purchase. The Fontana plant moved from South San Francisco to Hayward after the purchase[12]..
Guggenhime and Company in San Jose
Guggenhime had two packing houses, side by side, off of Julian Street in San Jose at least during the mid-1930's. The property site (and perhaps the buildings) were inherited from Phoenix Packing which had been on the site since 1907. John C. Gordon took multiple pictures of the three-story wood and brick plants. More details are available from contemporary lawsuits. A 1936 lawsuit over death in elevator hints at the internal arrangement of the packing house. John J. Whelan, the superintendent, died when crushed between floors; his widow sued the insurance company because his life insurance policy paid double for deaths associated with elevators[13]. A 1943 advertisement solicited men for the "long" dried fruit packing season[14]. The buildings still existed as late as 1945; a newspaper article notes a new concrete boiler house being built in 1934[15], and a building permit in 1945 shows that Guggenhime still occupied its three story buildings[16].
By 1951, the former Guggenhime buildings appeared as Food Machinery Corporation on Southern Pacific engineering drawings[17].
Guggenhime and Company in Santa Ana
Guggenhime & Company also had plants in Southern California, with a walnut processing facility. A 1921 news report noted that Guggenhime would be paying out a half million dollars in payments to walnut farmers[18]. The manager that year was "Manager Smith". The article mentions walnuts being harvested for 23 years since 1898, but it's unclear if that time represents cultivation in general, or Guggenhime's time in the area. Another source claims Fern Bishop built the Guggenhime packing house in 1914[19]. Walnuts were the most common crop, responsible for more than 60% of the payments during the packing house's life, but the plant also packed fruit and honey.
Locations
| Location | Plant # | Years | Address | Details |
| --- | --- | --- | --- | --- |
| College City | | 1909 | | |
| Colusa | | 1909 | | |
| Dinuba | | 1934 | 125 S. M Street[20]. | |
| Fresno | Plant 4, 8,12 | 1909, 1930s[21] | Santa Fe Avenue | |
| Hanford | | 1909 | | |
| Rucker | | 1909 | | |
| San Francisco | | 1902 | 118 Davis St.[22]. | |
| San Francisco | | 1909 | Filbert and Sansome St. | |
| San Francisco | | 1912, 1921 | 100 California Street | |
| San Jose | Plant 16, 17 | 1927, 1935 | 261 Julian Street | Julian and Pleasant Street. Formerly Phoenix Packing. |
| Santa Ana | | 1909 | ??? | |
| Selma | | 1909, 1920 | | Packed walnuts. |
| Winters | | 1911 | | Photographed in 1911 with baseball being played behind the warehouse[23]. |
Photos
Plant 4 and 8, Fresno. Pop Laval Foundation.
Guggenhime and Company Dried Fruit Packing Plant 16 John C. Gordon Collection / San Jose Library
Guggenhime and Company Dried Fruit Packing Plant 17 John C. Gordon Collection / San Jose Library
Guggenhime & Company packing house, Santa Ana. Near Santa Ana Southern Pacific depot. U.C. Irvine Special Collections.
References