Salsina Packing and Canning Company
Jump to navigation
Jump to search
Summary

| | |
| --- | --- |
| Business | Cannery |
| Main Location | San Jose |
| Active | 1918-1922 |
| Aliases | Salsini Packing, Salsinia Canning and Packing |
| Successors | Virden Packing |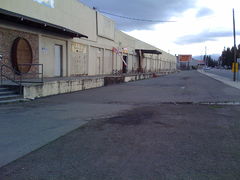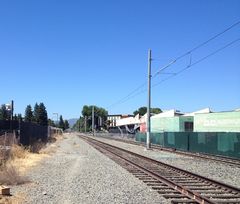 The Salsina Packing and Canning Company was a short-lived tomato canner in San Jose. The company suffered through a bad year in 1921, and was sold to Virden Packing.
Salsini Packing was founded in 1917 by Alfonso Lambrosa and Carlo Aiello from Highland, New York[1]. (The name varied; Salsini and Salsinia are some of the ways the name was corrupted.) The company intended to produce tomato paste, which had formerly been sent from Italy. Alfonso Lambrosa declared[2]:
"This country sends every year about seven million dollars to Italy for tomato paste, which is used in macaroni," said Lambrosa today. "There is no reason why this money should not be kept in this country, and we propose to do what we can to keep it here. We now have one large paste factory operating in New York, near Poughkeepsie, and this will be our second factory. When we start making paste we will give employment to a considerable number of people. Before we stop we may be making other things. There is no reason why macaroni can't be made here. All we need is a dry climate and some fine hard wheat and California has both. It is possible we will start such a factory, but we won't now for it is our policy not to have too many irons in the fire at once."
California Fruit News reported in May, 1918[3]:
"The Salsina Canning and Packing Company, which was recently organized with a captal stock of $150,000 by italian interests in Santa Clara Valley, expects to open its new cannery towards the end of August The building is completed and machinery is to be installed shortly. This company is composed of a number of prominent Italians and has the backing of people connected with the Bank of Italy and New York City Italian interests. Salsina is the name of the Italian tomato paste as it is known in Italy and means the condition of the product as it finally reaches the consumer. There seems to be no exact translation, hence the use of the name in the company."
From another source:
"A new cannery to be known as the Salsina Canning Company is planned to be established in Santa Clara County by New York State cannery men. It is to be concerned primarily, it is understood, with the manufacture of Italian tomato paste and sauce, which its promoters have for years been concerned with importing from Italy and will remove their operations from Highland, New York State, to San Jose owing to its better facilities for this kind of work in the Santa Clara Valley. The names mentioned are A. Lambrosa and Carlo Aiello."
By March 1919, the plant was up and operating[4]:
The Salsina Canning Company, situated at the corner of Lincoln and San Salvador Streets, has an investment of about $200,000 at that site. The plant was installed during the past year and handled tomatoes and salsina [tomato paste] exclusively. The company is now considering the advisability of constructing a new unit at a cost of $45,000 in time to handle fruits as well as tomatoes next year."
That work may have been related to a 1919 request for bids for a 60x600 concrete addition to the existing cannery[5]. Similar reports of $100,000 being spent on new electrical systems to expand production capacity appeared in 1919[6].
Salsina primarily canned tomatoes; their 1919 patent office trademark application listed only tomatoes; a1920 packer's directory shows they canned everything - tomatoes, pears, cherries, etc.
A 1919 city directory shows Lambrusco and Aiello joined by a local businessman, Gus F. Lion: "Salsina Packing: Gus F. Lion, Pres, Alphonso Lambrosa V. Pres, Mgr W. J. Leet treas, Lincoln Cor San Salvador." Lion ran a furniture store in San Jose and owned the San Martin ranch. He sold the ranch in 1921, and sold cannery in 1922 to Virden Packing. The cannery had been closed, "like several other canneries", in 1921 because of poor business conditions[7].
Edith Daley visited Salsina in 1919[8]. She noted that William "Billy" Leet was the manager at the time, and paid for the ice cream truck to stop by the cannery on one work day.
The sale was completed by February 1922[9][10]:
During the last week of February, the Virden Packing Company purchased the Salsini Canning and Packing plant located on the corner of Lincoln avenue and San Salvador street for the sum of $250,000 in San Jose. Chas. E. Virden, president of the company, stated that additions will be made at once to the present Salsini plant to make it one of the largest in Santa Clara county. Work will be started at once for alterations and new buildings. The San Jose plant will have an addition of a cold storage plant to be used in conjunction for the packing of meats. This plant will be used for the packing of all the companies meats drawn from the field south of San Jose.
William J. Leet arranged the sale from the Salsina side. Virden billed themselves as the "largest packer of cling-stone peaches in the world", and intended to use the San Jose plant for distribution of fruit and meats[11].
Salsina Packing's building still exists on Lincoln Avenue - a concrete building with a sawtooth roof, expanded several times during its lifetime. A small house swallowed up by the building still exists on the east side. The 1922 Western Canner and Packer ad for Pacific Manifolding Book Co shows a cannery form for Salsina.
There might be a relation to Aiello Brothers, the founders of the Contadina brand and the eventual Hershel California Fruit Products cannery.)
Locations
References