Schuckl Cannery
From Packing Houses of Santa Clara County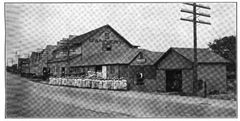 Schuckl and Company was a San Francisco export broker, dried fruit producer, and canner initially operated by Max Schuckl, an Austrian immigrant[2][3]. The company had a sales office in New York[4].
The company started in Niles, California, both canning and packing dried fruit. Max Schuckl, in 1914, commented in an article about the outbreak of war in Europe "we [California] don't sell more than 20 cars a year [of peaches] to England, and perhaps 30 cars to Germany. Apricots, being more of a luxury, may drop in demand and price. But prunes are a real foodstuff and will be needed."[5].
The company was noted as packing cherries in May 1922[6] The company expanded to Sunnyvale when they purchased Sunnyvale Canneries in 1925[7]. Fred Drew was the manager of both the Sunnyvale and Niles canneries in 1928[8].
Schuckl and Company also canned salmon in Seattle[9].
After World War II, Schuckl bought the former United States Products cannery on Moorpark at Race, then being used by American Home Foods to produce Clapp's Baby Food. Schuckl was sold to California Canners and Growers in 1963.
Schuckl's Sunnyvale cannery continued to operate well into the late 20th century. A 1956 lawsuit against the company accused them of responsibility in a grade crossing accident at Fair Oaks Ave. because the cannery stacked too many boxes near the road. The lawsuit also describes the track arrangement and plant arrangement[10].
Locations
Location
Years
Address
Details
Niles
1919
San Francisco
1917
16 California St.[11]
San Jose
1945
570 Race Street

Leased former U.S. Products cannery.

Sunnyvale
1925-1962
182 South Fairoaks Avenue

Offices and main cannery. Designed by William Wurster.
Photos
Shuckl Cannery Office (William Wurster, architect) Sunnyvale Library
References