United States Products
From Packing Houses of Santa Clara County
Summary

| | |
| --- | --- |
| Business | Cannery |
| Main Location | San Jose, CA |
| Active | 1922- |
| Brands | Countess[1], Three Star[2]. |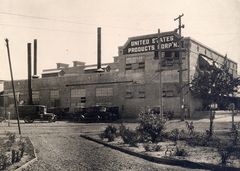 United States Products was an independent San Jose cannery founded in 1921.
The company was founded on June 15, 1921 in San Francisco. Directors were B. C. Wallace, William Hoffman, Alden Ames, L. C. Bellani, and R. Mignacco. All were from San Francisco, except for Hoffman who was from Oakland. 5000 shares were declared, 2,000 preferred, and 3,000 common. Only one share was allotted to each director. By 1927, when the company officially moved its offices from San Francisco to San Jose, shareholders were D. C. Kok (president, 1636 shares), William Neuroth (one share), Franklin (one share), and E. Avila (secretary, one share). By 1940, when the articles of corporation were amended, the owners were listed as Arthur J. McChrystal and William Klassen[3]
When the company appeared in the news in 1922, it was described as run by Vlessing, a major Dutch conglomerate based in the Hague, in January 1922[4][5]. USP was personally operated by D. C. Kok, president of Viessing[6], and his sons Albert and Dick, with William Neuroth, a former fruit buyer. USP's production was probably intended for consumption in Europe (much like the Ainsley Cannery in Campbell was selling to England). The superintendent of the cannery in 1922 was George Pyle (former owner of the J.F. Pyle Cannery, and superintendent of the dried fruit plant was George Holmes[7]. Planning to can 800 tons of apricots grown in the Santa Clara and San Joaquin Valleys, 500 tons of peaches, 500 tons of pears, 2000 tons of apples, 500 tons of prunes, and 1000 tons of pumpkin. The entire output would be sold in Europe. The company bragged that it had a "special drying method"[8] It's hard to tell whether Kok and Vlessing funded the cannery from the beginning, or if they bought a failing cannery project in 1922.
U.S. Product's main building in San Jose was monolithic, large, and looming. In 1928, unknown persons tried to burn the plant down[9]. The current Western Appliance warehouse on opposite side of Race Street dates from cannery times.
Neuroth, the general manager, died on July 2, 1940[10]. Neuroth had been a fruit buyer but later was associated with D. C. Kok Sr. in organization of United States Products corporation.
Dick Cornelius Kok married Dorothy Heller in Reno on January 25, 1942[11]
U.S. Products went bankrupt in 1943[12]. Initial plans were for a midwestern backer to run the cannery[13]. The trustee leased the cannery to the Schuckl Cannery[14]; a lawsuit the next year challenged the trustee for leasing the property rather than keeping it as a going concern[15]. The plant was leased to the Clapp Baby Food company in 1944 and 1945.
Carl Lovegren operated the cannery in in the late 1940's, but died in 1950[16]. In 1951, it transferred to Consolidated Grocers[17]. (Consolidated Grocers also owned Rosenberg Brothers, a dried fruit packer.) By 1961, the owner was referred to as Consolidated Foods, with Paul Rea as the president succeeding the late Fred M. Drew[18]. The company canned under the "Three Star" brand starting in 1954[19]. The company also had a private cold storage for apples in 1962[20]. The cannery was bought by National Can in 1971[21], and supposedly Consoldidated Foods in 1972. It became part of Glorietta Foods in the late 1970's, then went to Tri-Valley Growers who shut the plant down and sold the land for development.
Around the San Jose Cannery
United States Products generated more than a usual number of stories about its heyday. Leonard McKay, a local San Jose historian, shared memories of the plant during World War II[22]. McKay worked as an office helper during the 1941 season, and remembers college kids with hand trucks carting fruit around. He also remember the green tinted jars used by the company. At the same time, a Judge Del Mutolo spent the summer of 1943 as a checker[23]. "He works a 10 or 11 hour shift as checker, and will work one more week before his vacation ends. 'It's good work, but I find I have to take some time to answer legal questions. Since other workers found I was working in the cannery, there have been lots of inquiries about questions of law.' ". Others remember the company canning water for soldier's rations during the Vietnam War.
Across the street was the Kerosene club, a music and comedy venue where the Smothers Brothers got their start. The club started in 1950's, and was at times a beatnik, jazz, and San Jose State student hangout[24].
United States Products in Salem
U.S. Products also operated a cannery in Salem. The Salem plant had been King's Products Company 1917-1927, Reid Murdock & Company from 1929 on, United States Producers from 1973 to 1975, and Truitt Brothers recently.[25]
Locations
Photos
John C. Gordon photo of front, http://digitalcollections.sjlibrary.org/cdm/ref/collection/gordon/id/1337.
Salem Cannery: photo
Salem Cannery: photo
References