West Side Fruit Growers Association
Jump to navigation
Jump to search
The West Side Fruit Growers Association was a dried fruit packing co-operative located in the Cupertino area on the west side of the Santa Clara Valley. The association's drying yard and packing house was on Stevens Creek Road near the current Woodham's Road.
The association was founded in 1891[1][2], and was merged into the Santa Clara County Fruit Exchange with the other local organizations. Charles W. Cutler was the first manager[3]. Eighty growers belonged to the association in 1893[4]. Colonel Philo Hersey was president from founding through at least 1896[5]. A.P. Saunders was president in 1902. A. W. Hudson was manager in 1917[6].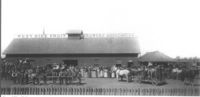 The union had a large twenty acre drying yard and processing plant[7],and handled 3,650 tons of fruit in 1893. There was a warehouse holding twenty carloads of fruit, a separate packing house, a boarding house, and additional outbuildings for cutting and dipping the fruit. The plant and its machinery cost $20,000; the West Side had 25,000 drying flats available for the season. In 1917, a huge rush of fruit required 23,000 trays to cover 20 acres of ground[8]. The company may have had a siding to the interurban line[9]. The Union also had a mechanical dryer; this was only to speed sun drying, and was not intended to fully dry fruit[10]. Manager Hudson discussed its use in saving fruit caught in the torrential downpours of mid-September 1917.
In the 1891, season, the association sold 50 carloads of fruit; in 1892, 30 carloads, and in 1893, 100 carloads were expected[11].
The organization lasted at least until 1922, appearing in a list of fruit packers in a Santa Clara County history continued to list them in 1922. The plant was taken over by Abinante and Nola in the mid 1930's; the buildings burned down in a fire on May 19, 1940[12]
Locations
References