California Cooperative Canneries
Jump to navigation
Jump to search
California Cooperative Canneries was a chain of canneries owned by different growers organizations founded in 1919. Although the cannery was declared as grower-owned (Santa Clara Valley Growers Association for San Jose, Stanislaus Growers Association for Modesto, etc), the company was vilified as a front for the Armour & Co. meat-packing company, as part of the meat packing company's attempt to expand once into fruits and vegetables. California Cooperative Canneries had a ten year contract to sell its full production to Armour[2]. Armour argued that the setup would give farmers more flexibility and profits, but others saw it as an attempt by the meat-packers to dominate another area of food production.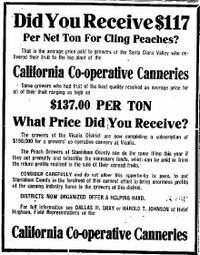 Armour's connection with California Co-operative Canneries spurred passion from both sides. Independent canners and some other co-operative associations spoke out strongly against Armour. During the 1922 attempt to reverse the consent decree, Elmer Chase spoke strongly for independent canners against Armour's involvement. However, the company also appeared to get support from other co-operative associations, including local cherry growers and the California Prune and Apricot Growers.
One opponent in particular, Aaron Sapiro, lawyer for the Fruit Growers of California, filed a complaint against the company in 1919 claiming unfair competition, and demanding Armour be divorced from California Co-operative Canneries[3]. Sapiro was counsel for Sunsweet and described in the New York World as "the genius of cooperative marketing". He certainly became an opponent of the Cooperative Cannery when its supporters attempted to get him and Sunsweet manager Coykendall tossed out for their unfair competition suit.
Strangely, Fruit Growers of California was claimed to be the fresh-fruit auxiliary of the California Prune and Apricot Growers[4].
A history of Tri-Valley Growers claims the company was started when it bought the "fruit and vegetable packing plants of the Armour Packing Company in Visalia, Modesto, and San Jose, CA in 1931[5].
Locations
Location
Plant #
Years
Address
Details
Hemet
North Harvard Ave., north of Devonshire[6].
Former Hemet Cooperative Cannery? Buildings apparently still exist.
Hollister
1924-1925
Perhaps related to the San Benito County Canning Company? Managed by Sam Cava. Only ever mentioned in Oakland Tribune about freezes in 1924[7] and canning Sacramento fruit in 1925.
Isleton
1926-1930[8]
East of Isleton[9]
Probably asparagus. Improved in 1930[10]. Cannery was purchased from the [Delta Packing Company] in 1926; Armour and Company took over the cannery and sales contracts in 1931[11].
Modesto
Plant #5[12]
1920-1931
14th and D Streets[13]
Plant in operation by mid-July 1920[14] Built with Stanislaus Growers Association. Site appears to be the current Stanislaus Food Products tomato cannery.
Sacramento
1928-1930
North B and 7th Street
Tomato cannery. Shut down in 1930, reopened by land owners as Bercut-Richards Packing Co.[15]
San Francisco
1922
Cunard Building, 503 Market Street
Main office moved to San Francisco from San Jose in 1922[16].
San Jose
Plant #1, Plant #2
1920-1931
Tenth and Taylor
Built with Santa Clara Valley Growers Association.
Tulare
1920
Bought from California Italian Products Company in July 1919[17]. Plant inactive in 1921, fruit instead going to Visalia[18].
Visalia
1919-1931
Built with the Visalia Growers' Association. Initially peach growers, but olive growers included in 1920 because of a "disastrous" market[19] Mr. Lambert was manager in 1921[20].
Visalia
1919
106 Court Street 106 North Court St.[21]
Office.
Armour and California Co-operative Canneries
Armour's contract with California Cooperative Canneries had effect between May 1919 and January 1929. It declared that the cannery would sell all canned fruit required by Armour, and sell at the current California Packing Corporation's prices unless such a price would be less than the cost of production. The cannery could sell any fruit beyond Armour's needs as of January 1, and could also sell any canned fruit that Armour did not use. Armour also held a mortgage on one of California Cooperative Cannery's buildings, initially $250,000 but reduced to $200,000 by 1922.
The movement sparked an epic anti-trust battle between the US Government and Armour and Swift, leading to a consent decree against the meat-packers in 1920; Armour relinquished ties with the company soon after. At least one other co-operative - the Fruit Growers of California - filed a complaint against Armour and California Co-operative Canneries soon after the FTC announced its own complaint[22]. Their lawyer, Aaron Sapiro, complained that the collusion damaged potential relationships between growers and other co-operative organizations[23]. The packers backed down in early 1920 and signed a consent decree, then divested themselves of many businesses. Their connection with California Co-operative Canneries continued only with a mortgage they held on the plant, but that was enough for competitors to still brand the cannery as "Armour-controlled." Another writer claimed the company was "heavily in debt to Armour" even after the consent decree[24].
California Co-operative Canneries disliked the consent decree and loss of their biggest customer, and tried to reverse it, both in hearings in the Senate in 1922, and via an appeal that agreed that they could intervene in the case[25]. The cannery argued they had a vital interest in the case because the consent decree lost them their contracted customer responsible for 52% of their entire output[26]. In April 1925, the Supreme Court for the District of Columbia suspended the complete decree altogether, and the appeals court upheld the ruling[27]. When the case finally reached the Supreme Court in 1929, the Supreme Court refused to change the consent decree[28].
The consent decree was suspended from 1925 to 1929; the Supreme Court ruled anti-trust action was appropriate[29].
In 1926, when the company was required to get a license from the California State Board of Health, the company listed its two canneries as Modesto and San Jose[30]. By 1928, California Cooperative Canneries were operating ten plans "located from Riverside County to Sacramento County"[31].
Eventually, they were allowed to keep the business[32]. Even then, the canneries only survived a few more years, being sold to Tri-Valley Packing in 1932 as demand for canned fruit plummeted in the depression[33]. The Sacramento plant closed it doors completely[34].
In 1920, the president was S. E. Johnson, with Albert Jaentze as secretary[35]. The company's manager was Vernon Campbell in 1921; he shows up in many press quotes during the early founding of the company. Floyd Bohnett, an enthusiastic member in 1922[36], also appeared in the press.
A 1922 Canners Directory shows sites in San Jose and Modesto, with offices in Cunard Building in San Francisco[37]. San Jose's plant was one of the biggest canneries in the county in 1922; a 1922 history noted "There are forty canning factories in the county. One of these, the Co-operative plant, is the largest in the world. In 1921 it absorbed 30,000 tons of fruit and employed nearly 1,000 people. In the busy season of that year the combined county payroll reached over two million dollars."
California Co-Operative Canneries in San Jose
There were rumors that the canneries were to be sold to Bisceglia Brothers, with the new company continuing to sell to Armour[38] Bisceglia Brothers will continue contracts with Armour; Vernon Campbell declared these as "without basis in fact"[39].
California Co-Operative Canneries in Modesto
Even with the anti-trust ruling, the company still expanded to Modesto by the summer of 1920, requesting subscriptions for the plant in March 1920[40].
California Co-operative Producers
California Co-operative Producers was a related company involved with shipping fruit. The company was founded in 1926 by Vernon campbell and Mr. Johnson, President of the Union Construction Company, to build a terminal for shipping agricultural products. They engaged a promotional firm to encourage growers to ship through them. The company apparently had problems paying off its debts by 1930, and defaulted on agreements with growers as well[41]
References