Campbell Fruit Growers Union
Jump to navigation
Jump to search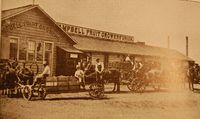 The Campbell Fruit Growers Union was a Campbell-based grower's cooperative founded in 1892. The co-op bought the existing Frank Buxton Dryer in July 1892[1]. The union supposedly joined the Santa Clara County Fruit Exchange and was part of the California Fruit Association, a sales agency backed by the Fruit Exchange. In 1902, Captain J.H. Hamilton was its first president. and S. G. Redeck secretary.
In 1895, the [[San Francisco Call noted that a hundred tons of prunes was arriving each day at the dryer[2]. The cooperative was just as busy in 1906. "San Jose Herald, August 29: The Fruit Growers' Union is a very busy place just now. About 75 tons of prunes are being handled daily, besides the peaches and pears, which require about 40 pitters to prepare for drying. A big shipping business has been done this year. Fifteen hundred tons of peaches were shipped green by the Union as well as 350 tons of apricots and a quantity of pears. A few days ago three cars of pears were shipped in by outside canneries, necessitating an increased force of women and girls."[3]
The co-operative slowly lost the support of its growers; growers were willing to sell to the co-op when prices were good, but went looking for the best deal when prices were low[4]. The co-op eventually leased itself, then sold out to George E. Hyde & Company.
Locations
Photos
Alice Iola O'Hare photograph of Campbell packing house looks like it might be an interior shot (or might be Central Santa Clara Fruit Company) (The Sunsweet Story[6] sets the photo in the California Cured Fruit Association packing house.
References