Virtual visitors for the NMRA 2021 "Rails By the Bay": Weclome to the Vasona Branch! Read below for a quick summary, or see a list of videos, longer articles, and more about the layout.

Hyde Cannery, Campbell California, 1920's.

It's summer 1932, and the Great Depression has taken hold in the U.S. Even with the depression, Santa Clara's crops still head for Eastern markets. Apricots fresh and dried, prunes, and cherries from the Valley of Heart's Delight all are grown here, and all get exported to the rest of the country. The valley is still covered in orchards, and make a beautiful sight when they flower in the spring.



Wrights Station

The Santa Clara Valley isn't idyllic, though. Large canneries and packing houses are scattered around the Valley. Industry flourishes in San Jose and elsewhere. Commuters board trains in Los Gatos, Los Altos, San Jose, and Sunnyvale, all heading to work in San Francisco. The Southern Pacific Railroad switches cars for the canneries, brings in lumber from the Santa Cruz Mountains and further north, and carries the commuters to work and back.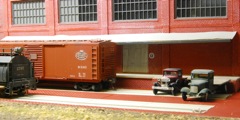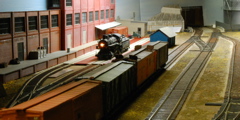 Del Monte Plant 51, West San Jose


The layout
The Vasona Branch layout is my latest model railroad layout, started in September 2003. The garage fills one half of a two car garage, and will represent the branch line from San Jose to Los Gatos (and beyond) in the early days of the Great Depression. I hope to capture a bit of the feeling of California before the appearance of suburbs and freeways: the ranching, the canneries and packing, and early industry. I'd also like to capture the look of the Valley at that time -- orchards stretching as far as the eye can see, Eucalyptus windbreaks along property lines, golden grasses, and steep canyons.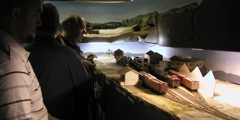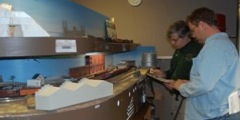 Operating sessions on the layout
My primary goals were:


Plan for operation. I wanted this layout to support realistic amounts of switching and freight activity.

Correspondence with reality. I use Sanborne fire insurance maps and old photos to identify track arrangements and interesting buildings.

Some scenery. I don't want this layout to be just a mess of tracks, but want to capture the look of nature and the look of representative buildings and industries.

Learn More
Examine the
track plan
.
Learn more about the
towns
on the layout.
Learn more about
freight operation
.
Learn more about
passenger operation
.
Learn more about
detailing Ken Kidder Harriman passenger cars
.
Learn more about the layout construction.
Learn more about the
latest progress
.
Learn more about what
design decisions worked
and which didn't.